Merle Ronald Haggard  (April 6, 1937 – April 6, 2016)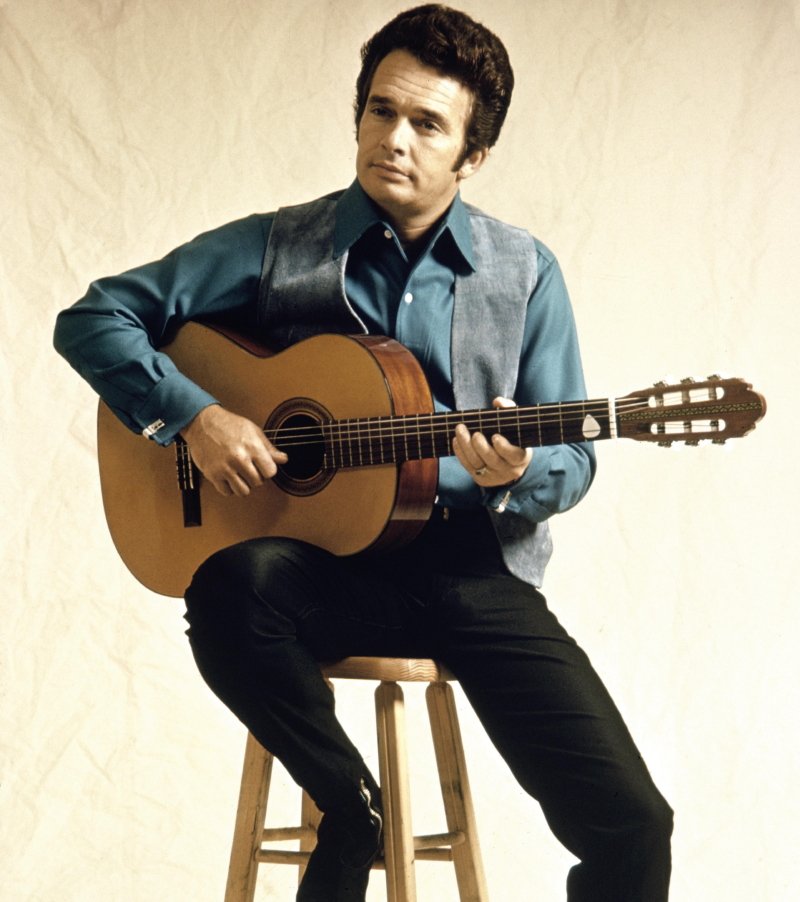 Merle Haggard was born in Oildale, California.  His childhood was not an easy one, he was born during the great depression and his father James Haggard worked for the railroad and ended up converting an old boxcar into a home, where Merle was born and spent most of his childhood.
In 1945 his father died of a stroke and his mother had to go to work and Merle was left with family members. At a very early age he was plagued by a respiratory condition, that frequently kept him out of school and confined to bed rest.  Merle was mostly on his own and became a rebellious teen, which caused him to be in and out jail for truancy, passing phony checks and grand theft auto.
Merle was a child of a musician, his farther played the fiddle and guitar before he became a family man. Merle would teach himself to play the guitar, in between reform facilities and county jail.  When he wasn't serving time, he worked during the day in the oil fields and played guitar in the bars and local clubs at night.
His singing career was influenced by Johnny Cash, who had performed at San Quintin Prison, when Merle was an inmate in 1959  Merle was 20 years old and had been in and out jail numerous times.  He was currently serving a 15 year sentence for burglary and attempted jail breaks from the county jail. (He really did turn 21 in prison)
While serving 2-1/2 years in San Quintin he played in the prison's country band and took high school courses. When he was paroled in 1960, he returned to Bakersfield where he would play and sing in the honky-tonks, which was the hub of country music.  In 1972, Merle was pardoned by the governor of California, Ronald Regan.




Merle Haggard is absolutely one of the greatest country musicians of all time.  He is a true American Legend. "The Hag" always pushed the limits and always stayed true to himself. he would write songs that would be for the blue color worker, "Working Man Blues", Swinging Doors" "Branded Man" "Mama Tried" and his signature song "Okie From Muskogee"just to name a few. Between 1960s' and 1980s' he had 38 number one hits on the US country charts, and several made the Billboard single charts. He continued to release successful albums into the 2000s'.
Merle received many honors and awards during his career as a country singer and songwriter including  Kennedy Center Award (2010), A Grammy Lifetime Achievement Award (2006) a BMI Icon Award (2006) Induction into The Nashville Songwriters Hall of Fame (1977), Country Music Hall of Fame (1994) and Oklahoma Country Music Hall of Fame (1997).
On April 6, 2016, Merle's 79th. birthday, passed away at home in Palo Cedro, Shasta County, California of pneumonia. He had a private funeral and was buried at his ranch on April 9, 2016. His long time friend Marty Stuart officiated.  Willie Nelson posted a picture of the two of them with a message: "He was my brother, my friend, I will miss him.